Images 1 | 2 | 3 | 4 | 5 | 6 Info | Construction | History
Known also as the Yankee Race Horse, the USS Constellation was the second frigate completed under the Congressional authorization of 1794, when the US decided it needed a Navy.
Among her many accomplishments is the capture of the 40 gun frigate L'insurgente on February 9th, 1799 during the Quasi-War with France.

Her next major contest pitted her against the 52 gun Vengeance a year later, in a 5 hour night action off Guadeloupe after which Vengeance escaped under cover of darkness.
The USS Constellation was blockaded in the Chesapeake during the War of 1812.

As part of Stephen Decatur's Mediterranean squadron she took part in the capture of the Algerian frigate Mashuda in June 1815.

From 1819 to 1843 Constellation served on a variety of stations, including Brazil, the Pacific, the Mediterranean, the West Indies and as flagship on the East India Squadron during the Opium War. She was broken up and 'recycled' into her namesake sloop-of-war of 1854.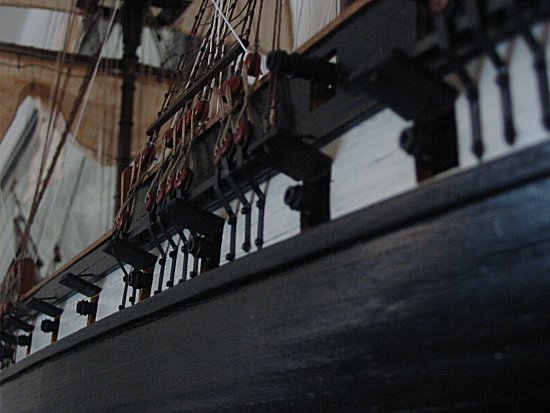 The model you see here is a very early 'Commander Class' model done as per clients request. She's not quite accurate as her stern has been taken from the Constellation of 1854 but other features are from the USS Constellation of 1797.
A new model of the USS Constellation of 1797 has been designed and her construction will start soon.